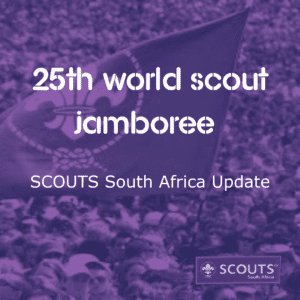 Dear Scouting members,
The SCOUTS South Africa Contingent has departed the 25th World Scout Jamboree site safely and are at the Kolon Human Resource Center, where they will stay. Their spirits are high as they continue a unique travelling Jamboree adventure!
Programmes have been organised for the next few days until the closing ceremony which will take place on Friday evening at the Olympic Stadium.
The weather at the campsite is still quite hot and humid, however it is expected to change over the next day.
Chief Scout Khonzaphi Mdaka sends greeting to the SSA Contingent " We will keep you all in our prayers. Remember that " a Scout smiles and whistles under all difficulties". Stay safe and stay strong."