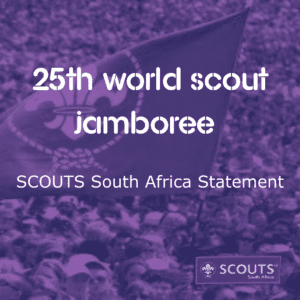 Dear Scouting members.
Many of you might be aware that Typhoon Khanun has changed course and is now approaching the Korean peninsula.  SCOUTS South Africa received confirmation this morning from the World Organization of the Scout Movement (WOSM) that due to the expected impact of Typhoon Khanun on the 9th of August, an early departure from the campsite in SaeManGeum is being planned for tomorrow the 8th August 2023.
At this time, we want to reiterate that we are not in a crisis, but that the safety and wellbeing of our members are our primary responsibility, and therefore a planned, orderly early departure as per the emergency protocols in being implemented. The Korean Government along with WOSM and the Jamboree Organizing Committee are working together to ensure the logistics for tomorrow's move to safer indoor facilities in Seoul, where accommodation, meals and medical facilities can be made available.
The Jamboree closing ceremony will take place in Seoul on Friday. Then on Saturday the SA Contingent will follow its originally planned itinerary which will see our members move to their hotel and fly home on Sunday morning.
This is yet another part of the adventure that our Scouting members have had at the 25th World Scout Jamboree. Some of you might have seen the international news reports that the UK and USA Contingents, with the support of their governments, decided to leave the Jamboree early. Whilst taking into consideration the health and safety of our members, our SA Contingent made the choice to continue to make the most of their Jamboree journey. While it is hot and humid, we believe that our Scouts adapted to the conditions and all basic prevention protocols were put in place regarding hydration, shade, sunscreen, avoiding strenuous activities during the heat of the day, etc. SSA's Head of Contingent ensured that improvements to food distribution and sanitation were observed in their subcamps.
We thank all the volunteers, from the International Service Team (IST) members to WOSM's team, the Jamboree organisers, and leaders from SCOUTS South Africa's Contingent team for remaining agile and adaptable throughout this jamboree journey.
As Scouts, we expect a calm and orderly early departure, with new adventures awaiting us in Seoul.